R u b b e r n e k k e r z . c o m
TRIPPING IN THE DARK
the astronauts returned from the recording facility on the space station after 10 years
the debut CD

Mark Harrington's new music varies from his other work, so a new name was chosen: Rubbernekkerz

It is more textured, and the emphasis is placed on creating a mood

Rubbernekkerz deliver an introspective range of alt-pop songs that create an emotional mood from a layering of sounds. Acoustic and synthetic textures blend to create a spacey backdrop for lyrics that (on the first CD) circled around the reflective and often melancholy themes of time, youth, and aging. "Tripping in the Dark" has continued on that path, including guilt, deception, and dreamscapes.

.

.

.

.

MP3 streams of the songs:

listen at last.fm

or hear 2 minute clips of all the songs.

MySpace:

Rubbernekkerz | Mark Harrington

volume 2
v D
Amnesty On Sorrow video
----- Lemmings ------
The song Lemmings, from the new CD, refers to the myth that Lemmings are suicidal animals. In fact, as detailed on snopes.com and elsewhere, this is false. The Disney company may have caused the accidental deaths of some of these creatures during a 1958 documentary filming in Alberta, Canada. Of course, the metaphor in the song lyric is meant to represent self-destructive behaviour, not suicide.
"Whether Disney made us or not, We still went down to our doom" - Lemmings, Rubbernekkerz (33 1/3rd)
--------------------

now on iTunes and CDbaby.com
This site is a sub-directory of the TEA / Mark Harrington site. Navigation as follows:
mark harrington links
services etc
ONLINE QUICK CREDIT-CARD ORDER: US funds
the following online purchase link is in US dollars
album
price
#
RUBBERNEKKERZ: 33 1/3rd (Thirty Three and a Third)

features a David Bowie 'cover' tune

$10.99
MARK HARRINGTON: Trash Icon

features a Gary Numan 'cover' tune

$10.99
MARK HARRINGTON: Capricorn Flakes
$10.99
Choose how many, and click
Orders sent by CD Baby - the fastest, safest, and easiest place to buy CDs online. You can also call 1-800-BUY-MY-CD to order by phone.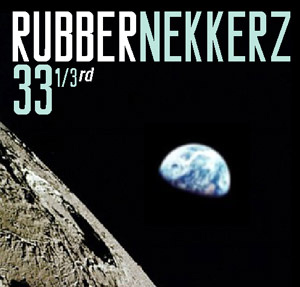 RUBBERNEKKERZ links
non illegitimi te carborundum

Tripping in the Dark

SONG TITLES of the 10 songs on the Tripping in the Dark CD: Guilty 3:28 / Behind the Scenes 2:29 / Moon Landing 4:10 / Another New Low 2:52 / Muted Cries 3:49 / The Rest of My Life 3:56 / The Stone of the Sun 3:45 / Haunting 3:35 / Some Good Times 4:15 / Guilty 'Mea Culpa' Remix 3:09

SONG TITLES of the 12 songs on the 33 1/3rd CD: #1 - Where You Really Are - #2 - Amnesty On Sorrow - #3 - Mood Swinger - #4 - Only Just Today - #5 - Years - #6 - Never Be The Same Again #7 - Lemmings - #8 - Saint Jude - #9 - Smile - #10 - Funny And Sad - #11 - Awfully - #12 Changes (by Bowie)

updated: 8/29/09 original launch: 2000/08/08/08:08 offical launch: 2001/01/01/01:01 update: 7/7/07/7:07pm

site revised 09/09/09 updated 02/10/2010

'Tripping in the Dark' offical launch: (Oct.10/10) 2010/10/10/10:10

Welcome David Bowie fans: Hi! Well, I was hoping that at least this page would be recognized by search engines as having some David Bowie content. You see, David Bowie is mentioned here a few times for good reason. David Bowie's tune Changes (recorded over 30 years ago) has been covered on Rubbernekkerz new CD. Well, anyone who likes David Bowie music may well like to hear the Rubbernekkerz version, but they've never heard of Rubbernekkerz! So, if they use a search engine, they might just type in David Bowie and find Rubbernekkerz.

emotion 33.3%spirit 33.3%psyche 33.3% Color
Rubbernekkerz, not Rubberneckers or Rubber -neckers etc.